Yoga for Healthy Aging
Yoga instruction for older adults supporting physical, mental, and emotional wellness for a quality health span.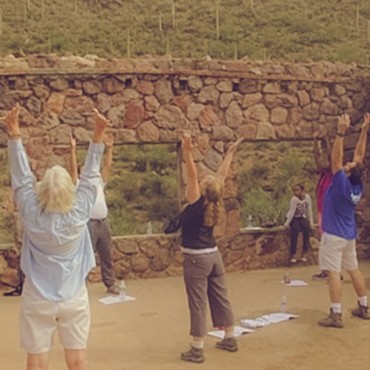 Hi There! I'm Bonnie Golden and…
…I want you to practice your yoga!
I craft individual and group offerings for people across the lifespan. I have seen first-hand that yoga will enhance our health and well-being holistically: body, mind, and breath. Check out information about my signature class and upcoming offerings here.
For each person and group I work with, I design a personalized yoga practice. I'll interweave my vast experience and training in yoga, fitness,  bone health, and more to serve you.
Benefits of Practicing Yoga for Healthy Aging
I teach because I love sharing the tools for holistic healing that have helped me! Yoga helps:
 

Healthy management of low bone density/osteoporosis           including balance improvement.
 

Back pain and chronic sacroiliac joint issues
 

Frozen shoulder
 

Pelvic floor health
 

Anxiety and stress
 

Pain management
 

Balance, flexibility, strength
 

Breathing enhancement
 

Accessible meditation techniques

I've cultivated the perfect combination of skills, training, and experience to offer an interdisciplinary and creative approach so you can practice your yoga.

Formal Qualifications
 "Yoga for Healthy Aging" teacher certification
  BoneFit® Professional credentialed by the Bone Health and National Osteoporosis Foundation.
 Senior Fitness Specialist credentialed through the National Association of Sports Medicine.
 Master's gerontological counseling and years of experience guiding yoga across the lifespan.
 30+ years teaching adults at the college level.
 Published author, most recently "Yoga for Holistic Healing: Poses and Sequences for Pain and Stress Relief".
Bonnie's students enjoy her uniquely informed and accessible teaching style, with focus on safe practices, empowerment, calm, self-awareness, and fun.
Check my weekly schedule page for public classes. 
Information on private and semi-private and special group sessions here. 
Sign up for our mailing list below or contact us for more information updates.
Some Nice Words from Students:
"Bonnie has crafted a rich, concise, and above all accessible program of yoga for aging bodies. Chock full of practical and life changing information, all served up with humor and lots of support. What's not to love?"  Donna C.
"I joined Bonnie's Female Pelvic Floor Workshop, part 2 of her "Yoga for Healthy Aging" series. I had already been to pelvic floor workshops and just felt I needed a refresher. I learned so much from Bonnie that two hours went by in a flash. Bonnie took us through a varied series of exercises and demonstrations, with printouts we could take home and use for a daily practice. I discovered the anatomy of the pelvic floor and learned I was exerting way too much effort in my interpretation of the exercises. Thank you, Bonnie! Your guidance has really made a difference." Donna T.
"This was an excellent program. Bonnie has a deep understanding of Yoga philosophy, motion, balance and strength. She is able to combine all of these…extremely relevant to this of us facing aging with the need for healthy and wise instruction. This was just what I needed." Louise G.
"Bonnie has broken down a wide range of information into very understandable segments." Jere M.