A Warm Welcome to New and Continuing Students.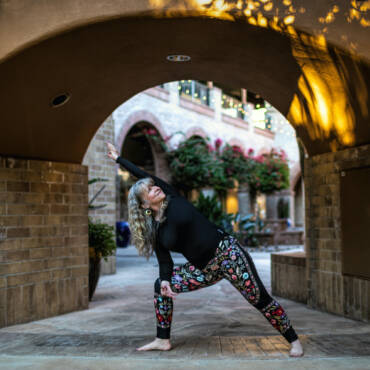 Prenatal Yoga-All details are here.
Yoga for Balance, Bones, Core and More*
*Sunday Yoga Streaming Class Series:
CLASS DESCRIPTION: Our practice is osteoporosis-informed focused on improving strength, balance, relaxation and mindfulness. The content is a  combination of yoga and other multimodal practices. We often use resistance bands as props for added strength. More information on the bands also here.
The class is comprehensive offering physical, meditative, and yoga breathing techniques for optimal health. All levels welcome. I weave my knowledge and practice as a BoneFit ™ Professional, Yoga for Healthy Aging, and NASM certified Senior Fitness Specialist into this well-rounded class.
CURRENT SERIES: September 10-October 1, 2023, 4 classes $39, or drop-in
NEXT SERIES: October 22-November 19, 2023, 5 classes $49, or drop-in
*Live stream, free recordings, and you're invited to stay and ask questions afterwards. Dynamic offering!
SUNDAY SCHEDULE:
9-9:14 AM arrive (Arizona Time)
9:15-10:15(ish) AM Class.
There are TWO simple steps to be officially registered:
STEP ONE:
Sept/Oct Series: register on Zoom here.
Oct/Nov Series: register on Zoom here.
The link that is generated will work for the whole series or drop-ins. (If you can't find it in your email, then and I'll know
if 

you've

already 

paid.)
STEP TWO: Remit payment via venmo, zelle, check, paypal etc. Scroll down for the details.
Don't hesitate to ask if you have any questions about the class, the bands, or anything else.
Package Rates:
September/October Series $39 four classes*, October/November Series $49 five classes*
 *Free recordings to access forever provided for registered students as a bonus gift.
Drop-In Rates:
A La Carte rate: $12*.
New/Returning after one year? Only $10 for first class with recording!
Contact me here with any questions.
 Payment Options:
VENMO: @yogawithbonnie
ZELLE: Please 

contact me

for information.
PAYPAL REGULAR REGISTRATION: Click here

Important Consideration:
*Pay-what-you-can accommodation. Within 24 hours, please Venmo/Zelle(either preferred) or Paypalany affordable amount. No questions asked. Financial challenges right now are real and I do not want those challenges to be a barrier to attendance.
Questions? You can simply use the contact form or text me at 520-870-9287
Class Description: In this popular class, you will practice strengthening and stretching physical poses with awareness of bone integrity, muscle integration and joint safety. Movements include standing, sitting, prone, and supine. Balance and core work is always included. Variations for each pose are provided. One size does not fit all! Breath awareness and yoga breathing as well as accessible meditation is part of each practice. All levels welcome!
More Benefits of my classes:
Recordings. If you miss a class you have invested in, or just really liked the class, you will receive a complimentary, private, youtube  recording. In effect, you will have endless opportunities to practice with any given class.
Post-Class Q&A In this popular benefit of class, you can stay on Zoom a few moments where Bonnie is available to answer any questions you have about the practice, a pose, or anything covered in class.

Questions? You can simply use the contact form or text me at 520-870-9287
Credit Toward Future Sessions Once the current class series has concluded, the plan is to start a new cycle. Sorry, no refunds or carry over credits for this online format. 
Before Class: Gather your yoga props or substitutes from around your house. We may not use all of them at any give practice but it is helpful to have them handy as if you were at the yoga studio.
yoga strap-Substitute: necktie, bathrobe tie, stretchy band, long scarf

blankets-Substitute: bath towels or throw pillows

blocks- Substitute: a book that you duct tape firmly around a block, a stable stepstool

bolsters- Substitute: wrap a blanket around an extra yoga mat, roll 2 firm blankets together
***********************************************************
Bonnie's Book ! "Yoga for Holistic Healing".  Available through Amazon and more sellers listed below.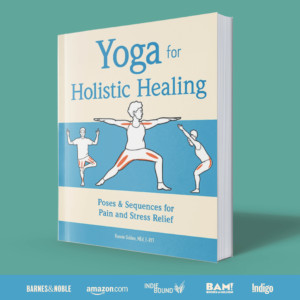 ***********************************************************
Workshops
Check out our workshop page and our Yoga for Healthy Aging page for upcoming specialized workshops.
***************************************************************************************
Specially designed private sessions for your group.
I can tailor Beginners Yoga, Yoga for Bone Building, Prenatal Yoga, Chair Yoga, Restorative Yoga, Postpartum Yoga and many other focus areas for your groups. Contact me to discuss your needs.