An Open Letter about (y)our Osteoporosis Diagnosis
Dear Friend:
If you're reading this, you or a loved one may have received a diagnosis of osteoporosis or low bone density (osteopenia). The radiologist typically measures your hip, spine and possibly wrist on the DEXA machine. Osteoporosis shows up in my spine and I have low bone density in my wrists. In spite of that, I live a full life. I move mindfully and I avoid unnecessary risks. For example, if I hike I use walking poles. I don't practice certain yoga asana (poses) anymore that might be risky for me, and I practice other poses differently than I used to. I work on my strength, balance, core, and stress management.
I have not fractured, or fallen.
For those reasons, and based on a great deal of professional training, research, and fact finding, I have made the very personal and individual decision to not start down an osteoporosis medication path at this time. I could change my mind at a future date. That remains to be seen.
Friend, your decision may be different regarding medication. I understand your choice, particularly if you've made that choice with your eyes open and in discussion with your medical provider, understand the pros/cons, the mechanism of the drug, the need for a relay drug with some medications, etc. Some resources to help you get started on your research are linked below.
However, osteoporosis medication does not help build muscle, does not improve balance skills, reduce anxiety and fear, or cultivate mindful and joyful movement through this one wild and precious life.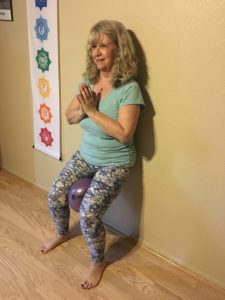 Holistic Yoga for Osteoporosis and its movement variations  offers all of the above, and more. Friend, once you learn how to move safely and optimally in yoga poses that are right for you, you might eventually add external resistance to yoga for osteoporosis movements meant for strengthening anyway. I've begun to do so since certifying as a Senior Fitness Specialist by the National Association of Sports Medicine (NASM) , as well as learning novel and fun ways to use resistance bands in yoga movements from my friend and colleague Trina Altman.
Holistic Benefits of Osteoporosis Yoga for Strength, Bones, and More
Furthermore,  the holistic dimensions of osteoporosis yoga such as simple breath practices and meditative focus go a long way to support wellness and help calm the nervous system to reduce anxiety and fear of falling.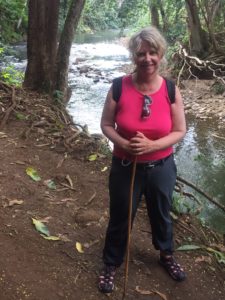 Friend, to minimize fracture risk you can also build and/or maintain your  strength and balance for self empowerment. I have gone from discouragement to self-confidence  and I know you can too! I also know the positive mental and psychological impact on a feeling of self-efficacy that these practices and educating yourself brings.
Will you join me in beginning to arm yourself with information, calling upon the wisdom you've gained over living life, and begin to take steps to  cultivate the strength that you have within you? Again, whether or not you've made the personal decision to take osteoporosis medication, the many benefits of yoga, strength, balance and mindfulness training will provide a fuller more enjoyable life.
Here's to strength, balance and life!
Warm regards,
Bonnie
Ready to get started right now? Leave your chair, click on the links below, and try these poses!
Researching  Osteoporosis Drugs: Discuss with your provider and educate yourself.
National Osteoporosis Foundation
National Women's Health Network
Other Recommended Books
Bonnie Golden, Yoga for Holistic Healing
Dr. Keith McCormick Whole Body Approach to Osteoporosis
Dr. Lani Simpson's book.No Nonsense Bone Health Guide
Dr. Loren Fishman & Ellen Saltonstall Yoga for Osteoporosis