-Revised 2/2021
Have you or a friend been diagnosed with osteoporosis or "osteopenia"?
If so, you have plenty of company. The startling facts:
approximately 10 million Americans have been diagnosed with osteoporosis
another 44 million have low bone density, placing them at increased risk of developing osteoporosis
One in two women and up to one in four men will break a bone in their lifetime due to osteoporosis
For women, the incidence is greater than that of heart attack, stroke and breast cancer combined.
                                                      -Source: National Osteoporosis Foundation
I have a special interest in this topic because I have osteoporosis in my spine.  So do many of my students. I regularly practice yoga strengthening and balancing.  I want my students and myself to get strong and prevent breaks and falls!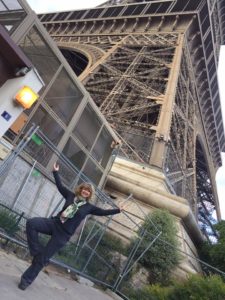 My classes and workshops focus on these practices (and more) created from years as a yogini, my  specialty certification as a "Yoga for Healthy Aging" teacher, and participation in web seminars, reading, and study of yoga for osteoporosis.
Frankly, osteoporosis as well as yoga for healthy aging have been my obsessions for the last 8 years.
So I share my experience, about the benefits of starting or adding yoga for your bone strengthening/fall prevention repertoire.
You're also provided links to some resources to learn more about this condition.
DEXA Surprise
Approximately 8 years ago I was convinced by my health care provider to have my bone density measured. This was the first time I learned of the DEXA scan (Dual-energy X-ray absorptiometry).  My insurance covered the costs.
My previous impressions about osteoporosis?
This is a disease suffered by very, VERY old and frail people.
Imagine my shock that my scores on the DEXA screening indicated osteoporosis in the lumbar spine and "osteopenia" in the hip.
At my follow-up visit, my health care provider seriously and earnestly showed me a drug company sponsored  plastic model of healthy and strong bone. Along side of it: a model of a weak, thin osteoporitic bone.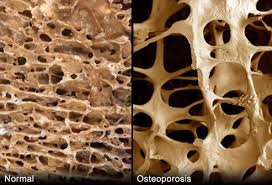 The scare tactic implication was: if I didn't immediately comply and take the drug, my bones would become brittle, thin, and I'd crumble like a tortilla chip.
This provider wrote me a prescription for Fosamax. I dutifully filled it. Then, because like many of you I am nosey and curious, I researched the drug and side-effects.
And made the personal decision to not follow the prescribed drug protocol.
As of this writing, I still haven't changed my mind about my decision (more about why later in this article.) I urge you to fill any prescriptions with an eyes wide open approach, weighing risks and benefits. Obviously, every person is different and you will find a great deal of information on "Dr. Internet".
But PLEASE look at the sources such as the drug manufacturer's website and your choices critically before you decide on treatment. Discuss with health care and related experts such as nutritionists and endocrinologists knowledgeable about osteoporosis.
A Yoga Protocol for Osteoporosis
Since I already practiced yoga, I decided to dig into the terms "Yoga AND Osteoporosis" on Google.
I quickly found Dr. Loren Fishman's website. Dr. Fishman is a physician and professor, as well as a long time practitioner of Iyengar Yoga.  He had performed a small analysis of yoga asana (poses) for bone-building with excellent results.  I discovered that he was recruiting volunteers for a larger study.
I was invited to join the study, sending the required blood tests and bone density information to NYC, and faithfully practiced the yoga protocol.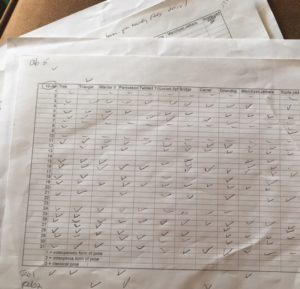 The original protocol includes 12 poses to be held for about 30 seconds on each side. Three modifications for each pose are provided. For example, in this post, you will find modifications for downward facing dog.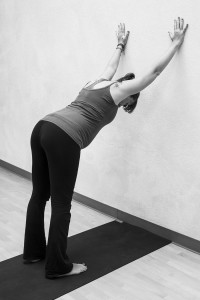 Many more details are available on Dr. Fishman's website, in Yoga for Osteoporosis  by Dr. Fishman and Ellen Saltonstall,  as well as in my classes.
So, how can yoga help strengthen your bones?
The selected yoga poses, and many others,  recruit opposing muscle groups, through which tension and stress are safely applied to the bones in the poses. This dynamic tension stimulates bone growth evenly and symmetrically. Furthermore, if you move in and out of a pose several times, before holding the pose, you must employ your muscles to move your body weight. Muscle strength and bone strength are partners.
Simply put, "asana" or the active physical poses of yoga, require using our own muscle strength. Strength and bones then improve with practice.
Additionally, regular yoga practice improves flexibility as well as balance for fall prevention.
Yoga does not require heavy equipment, is portable, and as Dr. Fishman points out, has proven side effects such as better balance, lowered anxiety, and lowered blood pressure!
Variety and Novelty
Happily results were an improvement at the hip in my follow up DEXA test.
Because our bodies adapt to doing the same movements repeatedly, it is well known  that we need to keep elements of variety and novelty to our exercise in order for strengthening to occur. In that way, not only our muscles and bones remain stimulated, but so do our brains.
As I am somewhat of a variety junkie, I am a proponent of adding appropriate yoga to your repertoire of bone building, or starting yoga with a suitable class. Dr. Bell and Nina Zolotow have provided a terrific summary about building strength and yoga.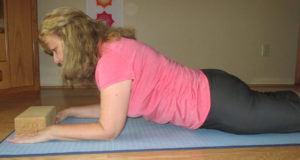 Ultimately, I adapted my personal yogasana (physical) practice to my diagnosis. For the students in my Balance, Bones and Core classes, I've done the same and added further yoga practices  such as safe impact, balance practice, core strength, restorative yoga for stress, meditation, and breath work. 
And there's more…
I haven't quit lifting free weights and doing moderate impact cardio with my good ol' exercise dvds.
Why? Again, I love yoga and variety. It's all good.
Important Further Reading
 -Check out this must-read NPR story "How a Bone Disease Grew to Fit the Prescription" to learn how the history of the connections between drug companies, DEXA manufacturers, and Medicare reimbursement has contributed to the recent prevalence of bone density screening.
-Women's Health Network: Osteoporosis Fact Sheet . Eye opening.
 About Osteoporosis Drugs: Dr. Fishman's response
The American College of Physicians (ACP) has issued  guidelines for bisphosphonates. From the press release:
"Physicians should prescribe generic drugs to treat patients with osteoporosis whenever possible and they should discuss the importance of medication adherence, especially for bisphosphonates," said Jack Ende, MD, MACP, president, ACP.
For this post, I asked Dr. Fishman for his reaction to the ACP guidelines.Thank you Dr. Fishman and to Carol Ardman for allowing me to share your response.
Bold added for emphasis.
"The ACP guidelines for treatment of osteoporosis are, in my view. clear,
straightforward and, so far as they go, accurate.  However three relevant
considerations have been omitted:
1. No non-drug therapies are mentioned. We have done a 743-person study, of whom 241 completed the entire protocol, in which a series of 12 yoga poses done for 12 minutes daily raised femoral and lumbar spine DEXA results to levels of significance and comparability with bisphosphonates' initial year of treatment.
2.     The chief negative consequence of osteoporosis – fracture –
requires either poor posture (spine) or a fall (hip, femur or spine).
Although the medications do little for either posture or balance, yoga
improves posture and balance, and additionally extends range of motion,
raises strength, refines coordination, and lowers anxiety, all known
contributors to poor posture, and falls.
3.     The ACP defines osteoporosis as "a systemic skeletal disease
characterized by decreasing bone mass and microarchitectural deterioration
[bone quality] of bone tissue that leads to an increased risk for bone
fragility and fracture." It also states that "Dual-energy x-ray
absorptiometry (DEXA) is the current gold standard test for diagnosing
osteoporosis in people without an osteoporotic fracture."
Yet the DEXA scan records only bone mineral density, and sheds no light on
microarchitectural structure at all. Indeed the DEXA is the accepted gold
standard, but since an estimated 30% – 70% of any bone's strength
(resistance to fracture) is said to be in the bone microearchitecture, and
not the cortical portion of the bone which the DEXA reports), the ACP
might do well to recommend inclusion of bone quality measures in a more
clinically meaningful measure of osteoporosis, even though no such measure
is standardized at this time.
It should be noted here that in a qualitative estimate, yoga appears to improve both the number of trabeculae and their thickness."
More Recommendations:
Yoga reinforces safe alignment in everyday activities, manage stress and anxiety, and supports balance throughout your day.
I regularly have my vitamin D3 levels monitored, and I suggest you do so as well.
My book Yoga for Holistic Healing: Poses and Sequences for Pain and Stress Relief includes clear illustrations and instructions for practices and poses that are osteoporosis (and other conditions!) informed.
Do you want to support strength, bones and benefit from the stress management practices of yoga? Check out my upcoming classes that integrate safe yoga for bone health. Feel free to contact me for free 15 minute phone consultation regarding private sessions individually crafting a practice for you.